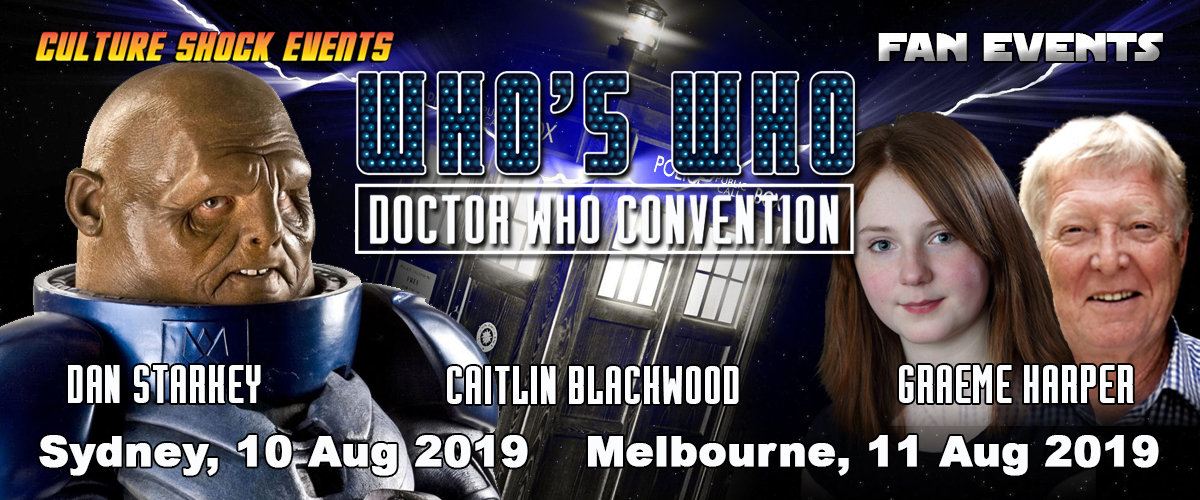 We are pleased to be able to announce our 2nd event for 2018…..WHO'S WHO.  A Doctor Who fan event, Who's Who will be hitting Sydney on the 10 August and Melbourne on the 11 August 2019.
Join us at Who's Who for a fun filled day celebrating Doctor Who.  This event will feature all the guests live on stage for a few stories, set secrets, anecdotes as well as a Q&A with the fans.  In addition there will also be dealers selling merchandise, an amazing raffle and a auction of rare collectables.  You WILL have the chance to meet the guests, acquire autographs and professional photographs, and enjoy the company of fans like yourself.  Unlike the major events you WON'T have to queue for hours, miss sessions due to conflicts, fight for a seat or deal with the crowds and noise.  Join us and enjoy the true fan experience at Who's Who.
GUESTS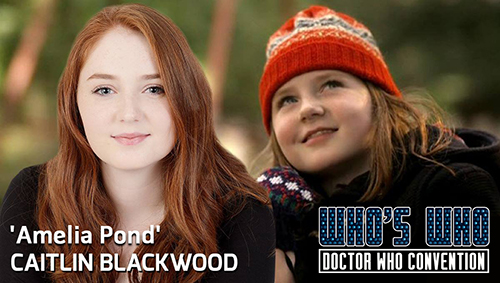 Our first announced guest for Who's Who is CAITLIN BLACKWOOD, who plays Amelia Pond the younger version of the 11th Doctor's companion Amy Pond portrayed by Karen Gillian (Caitlin's cousin). At the age of nine, Caitlin was recommended for the role of the young Amelia Pond by her cousin Karen Gillan, even though the two had never met! Caitlin still had to attend rigorous auditions before she was finally cast in the role of Amelia Pond, making history as the first Doctor Who companion to be introduced as a child to both the audience watching and the Doctor (Matt Smith). It was only after the young Amelia Pond appears on screen, that the audience got to see Karen Gillan's "Amy Pond".
---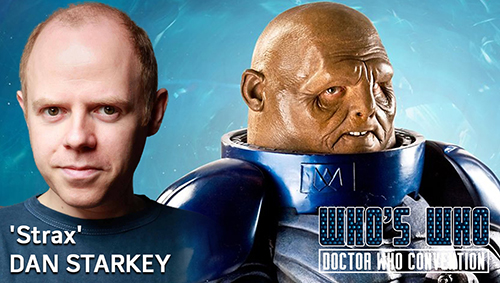 Hopefully he won't declare war on us but 'Strax', DAN STARKEY, will be joining us. Dan has of course portrayed a number of different Sontaran characters, most notably Strax, who have come across the Eleventh and Twelfth incarnations of the Doctor, played by Matt Smith and Peter Capaldi respectively. Outside of Doctor Who Dan played the hobgoblin Randal Moon in Russell T Davies' Wizards vs Aliens.
---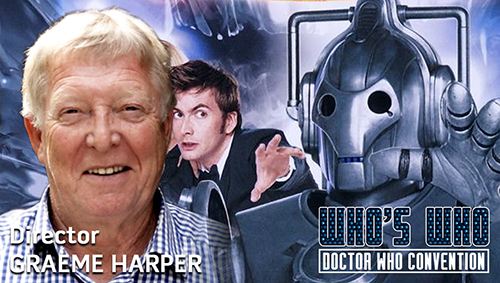 Described by some as the longest serving crew member on Doctor Who, having started working as a Assistant Floor Manager in 1971 and Directing his last episode in 2009. GRAEME HARPER is also the only Director to have directed episodes of both the original and current series of Doctor Who having worked with Peter Davison, Colin Baker and David Tennant. In addition Graeme worked on the Doctor Who spinoff The Sarah Jane Adventures, and his other directing credits include Robin Hood, Star Cops, The New Statesman and Coronation Street.
---
TICKETS
| | | |
| --- | --- | --- |
| TICKET | PRICE | INCLUSIONS |
| General | $99.00 | Entry to the event, with an allocated, numbered seat. |
| Child (under 16yo) | $70.00 | Child must be under 16 years old at time of event; – proof of age may be requested on entry; – only available with purchase of adult ticket; – no other discount applies. |
| Gold | $300.00 | Entry to the event, with an allocated, numbered seat; – one photo with each of the 3 guests; – one autograph from each of the 3 guests; – seated behind VIPs. |
| VIP | $600.00 | Front row seating, with an allocated, numbered seat; – one photo with each of the 3 guests; – one autograph from each of the 3 guests; – lunch with the guests (on-site, during the convention); – entry to the Cocktail Party with the guests (venue to be advised) |
| Cocktail Party | $70.00 | Limited number of tickets available; – only available with purchase of paid General or Gold ticket; – under 18 years old, must be accompanied by adult, due to alcohol restrictions; – venue to be advised to purchasers |
VIP PAYMENT PLAN
If you would like to book a VIP ticket for Who's Who but would like to pay it off we are happy to help you out. All you have to do is go to the booking page for the event (above) and you will find an option for 'VIP Payment Plan Deposit', which is a 25% non refundable deposit (unless event is cancelled). We will then invoice you for three further equal payments over a three month period (01/05/2019, 01/06/2019 & 01/07/2019) with final payment to be completed before the date of the event.  Payment plan bookings close on 31/03/2019.
VENUE