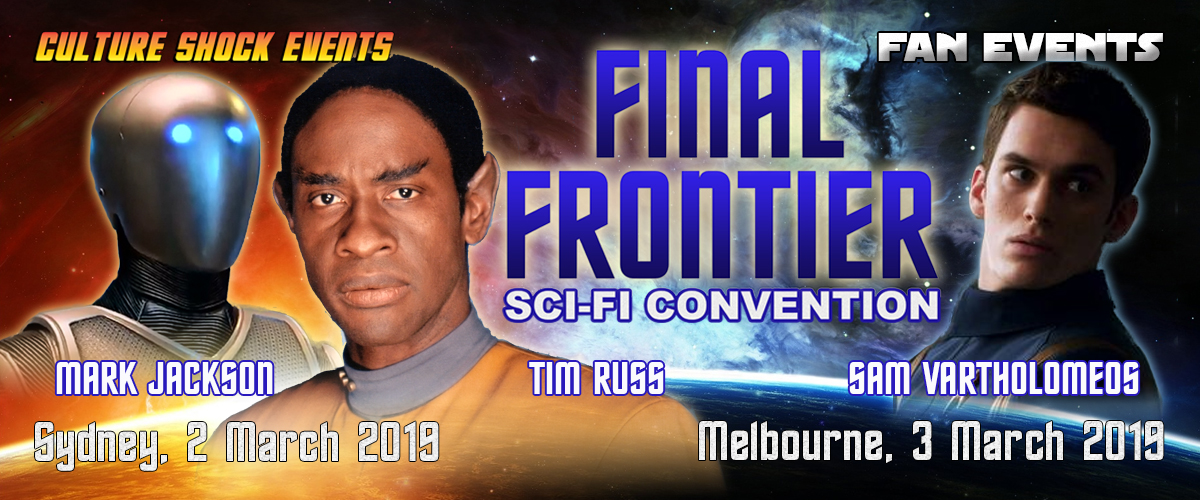 After a longer than expected hiatus Culture Shock Events is back with 'FINAL FRONTIER' a Sci-Fi Convention celebrating Star Trek, and the new Star Trek-like series, The Orville. Culture Shock Events in association with Fan Events will be partnering for Final Frontier in Sydney on the 2nd March and Melbourne on the 3 March 2019.
Join us at Final Frontier for a fun filled day celebrating two fantastic Sci-Fi series.  This event will feature all the guests live on stage for a few stories, set secrets, anecdotes as well as a Q&A with the fans.  In addition there will also be dealers selling merchandise, an amazing raffle and a auction of rare collectables.  You WILL have the chance to meet the guests, acquire autographs and professional photographs, and enjoy the company of fans like yourself.  Unlike the major events you WON'T have to queue for hours, miss sessions due to conflicts, fight for a seat or deal with the crowds and noise.  Join us and enjoy the true fan experience at Final Frontier.
OUR GUESTS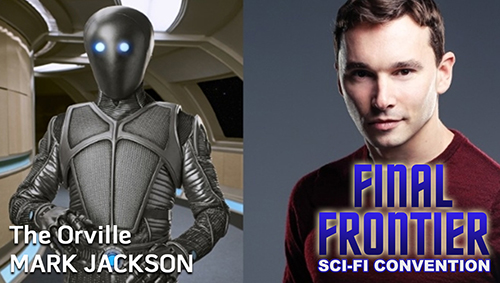 Our first announced guest for Final Frontier is Mark Jackson, who plays Isaac, The Orville's Science and Engineering Officer, an artificial non-biological being from Kalyon-1, whose citizens view biological lifeforms as inferior – this obviously includes humans.
---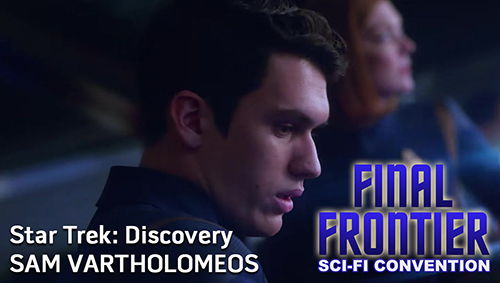 Our 2nd guest for Final Frontier is the Discovery's Ensign Darby Connor, Sam Vartholomeos.  Sam portrayed Ensign Danby Connor in the first two episodes of Star Trek: Discovery, "The Vulcan Hello" and "Battle at the Binary Stars". He later appeared as this character's mirror universe counterpart in "Despite Yourself".
---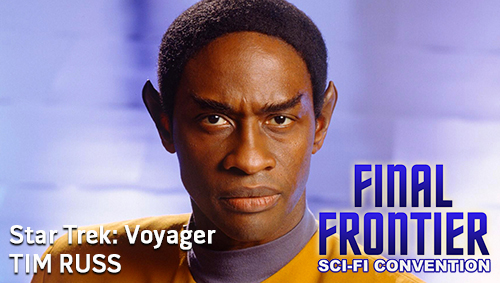 Joining us for Final Frontier in 2019 is our second favourite Vulcan (sorry) 'Tuvok', Tim Russ. Tim of course played Lieutenant Tuvok for seven seasons on Star Trek: Voyager, but has also continued his association with Star Trek with roles in Star Trek: The Next Generation, Deep Space Nine, Generations, Of Gods and Men, and Renegades. With a career spanning 35 years Tim has also made appearances in Hill Street Blues, Spaceballs, The Twilight Zone, The Highwayman, Suits, The Good Doctor, NCIS, General Hospital and Supergirl. Tim is also set to star in an episode of season 2 of The Orville alongside our guest Mark Jackson.
---
TICKETS
| | | |
| --- | --- | --- |
| TICKET | PRICE | INCLUSIONS |
| General | $99.00 | Entry to the event, with an allocated, numbered seat. |
| Child (under 16yo) | $70.00 | Child must be under 16 years old at time of event; – proof of age may be requested on entry; – only available with purchase of adult ticket; – no other discount applies. |
| Gold | $300.00 | Entry to the event, with an allocated, numbered seat; – one photo with each of the 3 guests; – one autograph from each of the 3 guests; – seated behind VIPs. |
| VIP | $600.00 | Front row seating, with an allocated, numbered seat; – one photo with each of the 3 guests; – one autograph from each of the 3 guests; – lunch with the guests (on-site, during the convention); – entry to the Cocktail Party with the guests (venue to be advised) |
| Cocktail Party | $70.00 | Limited number of tickets available; – only available with purchase of paid General or Gold ticket; – under 18 years old, must be accompanied by adult, due to alcohol restrictions; – venue to be advised to purchasers |